<-Return
40

lyric's Now available!.
Analogy
BOOK OF LYRICAL PROSE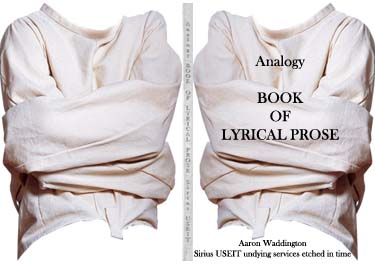 Copyright © Aaron Waddington Sirius USEIT
---
(on demand, 5-7 day! shipment.)
---
This book is dedicated to two weeks in an APU
Acute Psychiatric Unit in which was written
An assortment of my souls expressions
And bundled with a number of older works
Unpublished before 2012
To all inspired why not try it
Complete your minds thought don't deny it
But know these writings start to end
Flowed while channelling
No mistake's or knowledge full fakes
Spending days to write what's made
But complete full role
Heeding a thought in time to express and shine

There for enjoy over and over again
True Awakenment
Aaron David Cesari Waddington
e
Sqorpio1980
e

---




View My Stats / Sitemap. / Site, best viewed with: wingdings...

Copyright © Sirius USEIT All Rights Reserved